Is this a donation or will I get a board?
When you checkout on Indiegogo, you'll see something that reads: "Your donation is a way to support a project but does not guarantee that you will receive a perk."
This is just Indiegogo's way of protecting themselves with legal language. They have no control over what type of projects are funded on their platform so they want to cover their butts.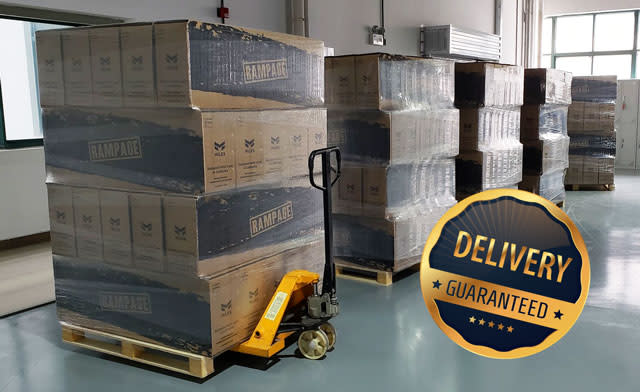 When you order on a crowdfunding site, it's a great idea to do some due diligence so you can judge how trustworthy the campaigners are. This is our 5th Indiegogo campaign - and each one has delivered. The latest campaign (which broke Indiegogo's all time funding record) is thousands of orders deep in the shipping process.
You can expect regular campaign updates from us detailing our humble work and the manufacturing process as well while we build your board.
I hope you can recognize that track record and the invaluable experience built up over the years. We are here for the long run and guarantee the delivery of every board ordered.
Do you have financing?
Yes, on the Miles Board website, you can get financing by choosing Klarna or Paypal credit as your payment method at checkout. Both options are only valid for customers in the US. Click here to order.
Can it really do 30mph?
Yes. This speed is based on real world testing with GPS tracking.
With the stock 97mm wheels, the Phantom can hit speeds of about 28mph. With the 105mm cloudwheels, the Phantom can hit 30+ mph.
Note: Top speed can vary with conditions like rider weight, terrain and wind. We're curious to see who will be crowned speed king. Please ride safe.
TLDR: More Speed, More Range, Better Ride
Belt motors are typically geared down so they can achieve more torque than hub motors. The torque helps in acceleration, hill climbing and off road riding. There is a trade off however, as there are more moving parts, more friction and a loud whine. That means range and top speed can suffer with belt motors. If you've ever tried to ride a board with belt motors, you can feel what a drag all those moving parts and friction can be. On or off, that friction is what robs you of speed and range.
Hub motors on the other hand have a motor directly inside the wheel. Because there's no belt, this reduces drag while also improving range. However a drawback with hub motors is that there's only a thin layer of material between the motor and the road - which leads to a bumpy ride, and you're stuck with only the wheel options that are custom made for each motor.
With the Phantom, we chose to use powerful direct drive motors. They're mounted directly on the axle and the wheel mounts adjacent to them. You get all the efficiency benefits of the hub motor, but with a normal skateboard wheel. You have more material to absorb bumps on the road and you can swap to any abec or kegel wheel you like in seconds.
What range can you get?
On the standard 97mm wheels, Rob got 29 miles on his range test riding quite hard through San Diego. He weighs 165 with gear. Range will vary with rider weight and conditions. If you weigh less you'll likely get longer range, if you weigh more, you'll likely get less. With the cloudwheels the range is expected to drop slightly, we estimate to 20-25 miles. Stay tuned for an official range test with those wheels.
Why is the range longer than other boards?
The Phantom comes with an ultra high capacity lithium battery, using next gen 21700 cells. Not only is there more total energy (432WH), the battery is also at a higher voltage - 43.2V compared to most boards at 36V.
For the techies, it's a 43.2V 10AH 12S2P battery with 21700 Cells (432WH).
WH (Watt Hours) is a measurement of the total energy in a battery
In addition to the massive battery, the Phantom has less moving parts. NO BELTS = less friction = more efficient, this is why the Phantom can achieve incredible range.
Beware:Many electric skateboard brands (especially the budget ones) don't even publish their battery capacity. Are they afraid you'll find out the truth?
How long does it take to charge?
Typically 3-4 hours, slightly longer if completely dead.
I'm heavy, can I ride it?
If you weigh less than 270 lbs, that's a big YES. Though we often ride 2 up for a combined weight of ~350lbs, we can't officially endorse it. Performance will decline with increased weight and the boards are not officially tested past 270lbs.
I'm tall, can I ride it?
Yes, there's no height limit and the board is very stable for all folks short and tall.
Can you ride it without the battery or remote?
Yes! The motors are precision engineered for the least drag possible. Boards with belt motors, are a drag to push with no power. The Phantom is a breeze to push and cruises smooth.
Is this practical to use for commuting daily to work (15-30 miles) and shopping etc?
Yes! That's a great distance to shred on your Phantom. You should easily make it there and back no problem. You'll have more fun, save more money and likely beat uber, traffic, busses etc.
Can I ride it underwater?
The Phantom is IP65 water resistant. That means you can ride through rain and decent sized puddles but you shouldn't go swimming with it.
The motors are completely waterproof and can run completely underwater. The electronics and battery in the deck are sealed pretty well by the grip tape, but if water manages to seep in over time it can damage them. For prolonged life, it's not a good idea to submerge the whole board or ride in heavy/torrential rains. The warranty does not cover water damage.
Can I ride it in the grass?
YES. You can cruise over cut grass from a dead stop but may want to get a rolling start if it's on the longer side. Grass takes more energy to roll over than asphalt, so it will slow any board down and use more battery than it would on hard surfaces.
Can I ride the Phantom off-road?
YES, throw on the cloudwheels and the Phantom will tear up the dirt. Be careful to avoid deep patches of loose sand or mud as they can stop you in your tracks. Other than that the powerful direct drive motors and cloudwheels combination can handle pretty much anything you throw at it.
Can I ride it in the sand?
YES, throw on the cloudwheels and the Phantom will tear up the dirt. Be careful to avoid deep patches of loose sand or mud as they can stop you in your tracks. Other than that the powerful direct drive motors and cloudwheels combination can handle pretty much anything you throw at it.
How does the Phantom handle extreme temperatures?
The Phantom's battery is tested to perform in temperatures of -4F to 113F (-20C to 45C).
At lower temperatures the battery capacity will decrease, so we recommend keeping the board at room temperature before you ride.
Will the production Phantom be exactly like the ones pictured?
We're extremely happy with the Phantom now. We do reserve the right to make modifications in the interest of making your Phantom even better. We may also release some stretch goals during the campaign with upgrades to the board. Stay tuned!